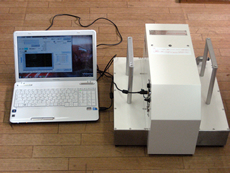 The D.F. Tester is a portable instrument to measure the frictional characteristics of paved surfaces in laboratories and on field at roads, highways, airport taxi-ways, runways and other areas.Among many such instruments introduced to the market today,the D.F. Tester is being used widely not only in Japan but also in the EU, the United States and many other countries at government agencies, construction companies, independent consulting companies,automotive manufacturers, tire manufacturers, research institutions and universities among many other organizations.
The equipment has many exceptional features and characteristics that clearly gives unique advantages to the device. The easy handling and portability of the device make it ideal in using both on field and in the laboratory. Measures the friction from high speeds to static friction and depicts the friction ? speed relationship in one single measurement.The unit is easy to use and removes measurement dependency on operators and from the results, it also can be used in small restricted areas where other measurements are not possible.
The DFTester also compliments the CTMeter laser texture measuring device in a unique way: it measures the frictional characteristics of the excat same physical surface where the surface macro texture was measured by the CTMeter giving direct match to analyze friction and texture.
The D.F. Tester is published in the [Pavement Investigation/Test Method Manual] editted by Japan Road Association] as an instrument to measure skid resistance on paved road surfaces. It is acknowledged and published in the FHWA's (Federal Highway Administration) Measuring Instrument Guide.
The device also is incorporated in the American Association of State Highway and Transportation Officials'(AASHTO) "Guide to Pavement Friction" and in the same book that is also published by the National Cooperative Research Program (NCHRP) of the US Academy under Document 108.
The New USB Version D.F. Tester has been designed to decrease the time required for and the cost of a measurement as it can complete measurements with the automated control of a connected Personal Computer in short time.(from starup through pin-up to speed, automatic water control from tank, measurement start and collection, analysis and storage of measured data.
A set of three rubber sliders, with rubber composition identical to that of the ASTM (American Society for Testing andMaterials) standard test tire for skid resistance measurement, are used for measurements.